Solarize Philly is a citywide program created by the Philadelphia Energy Authority to help Philadelphians go solar. The program was launched to make the process of installing solar as easy and affordable as possible, while also supporting solar training at the School District of Philadelphia and improving access to clean energy for all neighborhoods.

The Solarize Philly logo takes inspiration from the parent PEA logo. We created a simplified sun icon and incorporated PEA's signature purple and yellow colors.
We designed a tri-fold brochure along with related posters and banner graphics to promote the Solarize Philly program. Slight angles suggest the shape of solar panels while creating visual movement. Large typography and bright colors were used to make the brand feel approachable.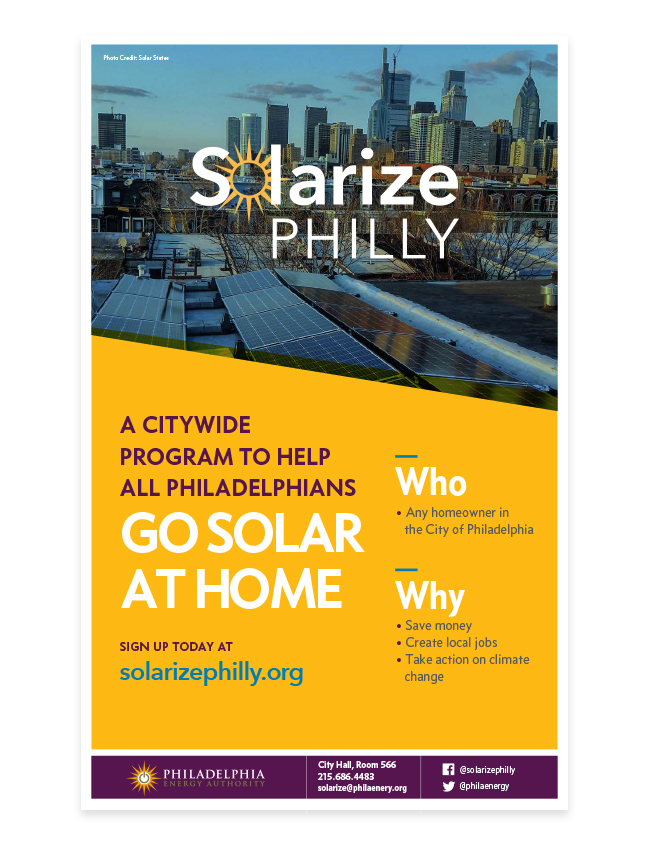 The Solarize Philly website is easy to navigate allowing users to sign-up and get free estimates for installing solar on their home. The light blue bar highlights important deadlines but can be customized or hidden at any time. An animated infographic illustrates how the program works. Icons and supporting text appear as the user scrolls down the page.